Despite a tough night with many close races, the key takeaway from Election Day was the progress made on earned sick time and the continuing importance of good jobs and the economy to voters.
[caption id="attachment_5437" align="alignright" width="300"]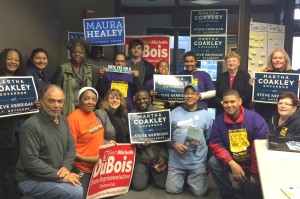 SEIU members and staff gathered in the Brockton campaign office before hitting the doors and phones to support our endorsed candidates and "Yes on Question 4" a few days before the election.[/caption]
Local 888 members -- librarians, DPW workers, state workers, school custodians, early childhood teachers, and many, many others -- want to see real progress on the issues they care about by electing leaders who will maintain services and improve our communities.
That's why members are investing in political work like never before. Over 140 new members have joined the over 400 existing members who voluntarily contribute to the Committee on Political Action (COPA) fund just this year.
COPA funds Local 888's political and electoral operations. Our efforts included an eight week field canvass in Brockton with six member political organizers talking to members and voters about their choices in the election. The canvass knocked on over 9,000 doors to educate voters on our agenda and motivate them to vote. The SEIU Massachusetts State Council knocked on over 162,000 doors statewide.
At the doors, on the phones, online and in the mail, Local 888 connected with members to inform them of the issues and candidates who support quality services and our communities.
While it was a hard fought race on both sides, Charlie Baker will be our next governor. Has the balance of power shifted to the Republicans? Not really. While the Massachusetts GOP did take several new House seats and some Senate seats, they don't have enough votes in either chamber to sustain a veto for Baker. Baker will have to work closely with the legislature to pass the state budget and any new legislation.
Public employees be forewarned: One of Baker's top priorities will likely be to cut retiree health care benefits.
The ballot question to provide earned sick time for all Massachusetts workers passed 60 – 40. Many members and staff spent countless hours gathering signatures, knocking doors and making phone calls to help ensure this victory. Read more about the victory for Earned Sick Time here.
SEIU Massachusetts State Council Endorsements:
Martha Coakley for Governor                                  Loss
Steve Kerrigan for Lt. Governor                              Loss
Maura Healey for Attorney General                        Win
Suzanne Bump for Auditor                                       Win
Deborah Goldberg for Treasurer                            Win
SEIU Local 888 COPA Legislative Endorsements:
In addition to re-electing many of our allies in the House and Senate, Local 888 helped elect a few additional candidates who will be strong allies for the labor movement. Michelle Dubois, a former Local 888 member, was one of our top election priorities. Local 888 members were heavily involved in her GOTV effort on Election Day and she defeated her opponent by just 445 votes! In addition, Local 888 won six of seven races picked by the Committee on Political Action as our top priorities, including Steve Ultrino who helped save 28 school custodians jobs in Malden this year.
The full list of COPA endorsements and the outcomes are below. To see in-depth results, please visit: //www.masslive.com/politics/index.ssf/2014/11/massachusetts_election_results_2014.html#governor
Wins:
Michelle Dubois for State Representative, District: 10th Plymouth Website: //www.electmichelledubois.com/
Steve Ultrino for State Representative, District: 33rd Middlesex Website: //www.ultrinoforrep.com/
Barbara L'Italian for State Senate, District: 2nd Essex & Middlesex Website: //teambarbara.com/
Mike Day for State Representative, District: 31st Middlesex, Stoneham and Winchester Website://electmikeday.com/
Jason Lewis for State Senator, District: 5th Middlesex Website: www.electjasonlewis.com
Mary Keefe for State Representative, District: 15th Worcester
Frank Smizik for State Representative, District: 15th Norfolk Website: www.facebook.com/repfrankismizik
Tim Toomey for State Representative, District: 26th Middlesex Website: //www.timtoomey.org/
Marjori Decker for State Representative, District: 25th Middlesex Website: www.decker4rep.com
James Miceli for State Representative, District: 19th Middlesex
Dan Donahue for State Representative, District: 16th Worcester Website: //dandonahue.org/
Ken Gordon for State Representative, District: 21st Middlesex Website: https://www.facebook.com/KenForStateRep
Marcos Devers for State Representative, District: 16th Essex Website: //marcosdevers.com/
Dan Cullinane for State Representative, District: 12th Suffolk Website: //www.dancullinane.com/
Dan Ryan for State Representative, District: 2nd Suffolk Website: //www.danryanforrep.com/
Stephen Kulik for State Representative, District: 1st Franklin Website: stevekulik.org/
Evandro Carvalho for State Representative, District: Fifth Suffolk Website: www.evandrocarvalho.com/
Losses:
Matt Patrick for State Senate, District: Plymouth & Barnstable Website: //www.electmattpatrick.org/
Doug Belanger for State Representative, District: 17th Worcester Website: //belangerstaterep.com/
Denise Andrews for State Representative, District: 2nd Franklin Website: //www.deniseandrews.org/home.html
Joe Pacheco for State Representative, District: 8th Plymouth Website: www.joepacheco.net/