On December 3, MassCOSH celebrated its 38 year with an awards ceremony that recognized Local 888 Field Director Lisa Field forher leadership, creativity and hard work to promote the safety and wellbeing of workers.
[caption id="attachment_5512" align="aligncenter" width="300"]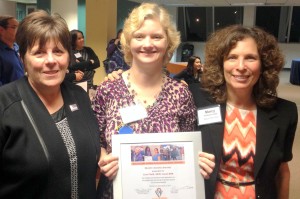 Lisa Field with Brenda Rodrigues and Mass COSH executive director Marcy Goldstein-Gelb.[/caption]
"MassCOSH has stood side-by-side with workers to fight for safe and healthy working conditions," said Field. "The coalition's work has saved lives and kept millions of workers from occupational injury and disease.  Local 888 is proud to partner with MassCOSH as part of our commitment to fight for safe, healthy and fair working conditions."
Other Awardees included: Senator Dan Wolf and Representative Thomas Conroy,  Co-Chairs Joint Committee on Labor and Workforce Development; Jamie Tessler, Occupational Ergonomics Consultant; and temporary workers employed at Fulfillment America for standing up to defend their rights to safe conditions and to their hard-earned pay.
For more info visit: www.masscosh.org or call 617-825-7233.