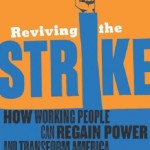 Find out next Tuesday at a book & author event with Joe Burns author of:
• Reviving the Strike: How Working People Can Regain Power and Transform America
AND
• Strike Back: Using the Militant Tactics of Labor's Past to Reignite Public Sector Unionism Today
Joe Burns is a veteran union negotiator and labor lawyer, and a former local union president.
Tuesday, February 10, 7:00 – 9:00 pm
SEIU Local 888, 52 Roland Street, Charlestown, MA
Four minute walk from Sullivan Sq. Orange Line T
Sponsored by: Harvard Trade Union Program, Mass AFL-CIO, AFSCME Local 1526, CWA Local 1400, IBEW Local 2222, IBEW Local 2321, Jobs with Justice, The Labor Guild, SEIU State Council, SEIU Local 888, United Electrical Workers, Northeast Region, UFCW Local 1445, Work Rights Press.
Please RSVP by email rwilson@seiu888.org or call 617 398-7102. You can also RSVP on Facebook.