With little fanfare, City of Boston Local 888 members and all of the other municipal unions reached an agreement last December that will allow members to continue to get the care they need while also holding down the city's health insurance costs.
[caption id="attachment_5728" align="alignright" width="300"]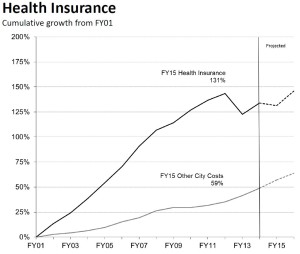 Health insurance costs have far exceeded other costs for the city. Source: Power Point COB FY2015 Recommended Budget.[/caption]
The accord reduces the number of plans offered from six to three, potentially saving on administration costs. While it raises copays by $5 per office visit, it keeps members' share of premium contributions much lower than most other municipal employees.
The agreement was reached because of the strong union coalition in the Public Employee Committee (PEC) that that builds on the success of the previous PEC agreement.
"We've managed to keep out-of-pocket costs way below what many other municipal employees are paying," said Local 888's Jen Springer who serves on the PEC committee.  "Not moving to coverage by the state's GIC (Group Insurance Commission) plan has worked to our advantage."
A 2011 state law gave cities and towns the ability to move municipal employees into the GIC that is generally less expensive than municipal plans.  Now that the GIC is running huge deficits and considering major plan design changes, Boston's decision not to go to the state system is looking better than ever.
The new agreement extends members' ability to collectively negotiate health insurance with the City until 2020.  It is expected to achieve approximately $45 million in new savings.  It will also consolidate and modify existing non-Medicare and Medicare plan options and avoid potential costs associated with the Affordable Care Act Excise Tax.
Springer added that, "Locking in these benefits for five more years may turn out to be a godsend."
"Individual workers and their families are in no position to solve the problem of sky rocketing health insurance costs," said Local 888 President Mark DelloRusso.  "Through the PEC, the City's workers have done their part.  Now government -- at all levels -- must take responsibility to address the problem of rising costs."
With rising health care costs crowding out wage increases, Boston workers' success at holding down costs while maintaining quality services is part of a national union trend to pursue cost-saving strategies that shield workers from higher out-of-pocket costs, according to a new qualitative study from the nonpartisan, nonprofit National Institute for Health Care Reform (NIHCR).
Examples of union cost-saving strategies include reducing unit prices by negotiating volume discounts or limiting provider networks; attempting to reduce utilization through improved care coordination, especially for patients with multiple, complex chronic conditions; and using wellness programs aimed at improving workers' health and controlling longer-term costs.
Boston has the advantage being an insurance purchaser with a large number of workers that can leverage better discounts.
"City employees deserve competitive health care benefits, as they keep Boston running smoothly and ensure that constituents are getting the services they need," said Mayor Walsh in a prepared statement. "This agreement strikes a balance between cost savings for taxpayers, and access to the best employee health benefit options."
| | | |
| --- | --- | --- |
| Plan Feature | GIC Tufts Navigator PPO "Benchmark Plan"(For FY2015; subject to change) | City of Boston Negotiated Standard HMO Plan(effective July 2015 to June 2020) |
| Annual Deductible | $250 Individual$500 Family | No Annual Deductible |
| Premium Contribution | Hired before 7-1-03 = 20%Hired after 7-1-03 = 25% | Effective:July 1, 2015 = 18.5%July 1, 2016 = 19%July 1, 2017 = 19.5% |
| Annual Out of Pocket Maximum | $5,000 Per Person$10,000 Per Family | $4,500 Per Person$9,000 Per Family |
| Office Visit Copay | $20 copay | $20 copay |
| Specialist Office Visit Copay | Tier 1 $25 copayTier 2 $35 copayTier 3 $45 copay | $30 copay |
| Emergency Room Copay | $100 copay | $100 copay |
| Hospital Copay | Tier 1 $300 copayTier 2 $700 copay | No Hospital copay |
| High Tech radiology Copay (MRI, CAT Scan) | $100 copay | No High Tech Radiology copay |
| Prescription Drugs (retail)30 day supply | Tier 1 $10 copayTier 2 $25 copayTier 3 $50 copay | Tier 1 $10 copayTier 2 $25 copayTier 3 $45 copay |
Under the agreement, standardize the Medicare and non-Medicare plans offered by the City. Employees and non-Medicare retirees will have now have access to three non-Medicare plans, as opposed to six under previous agreements, and Medicare retirees will have access to three Medicare Supplement plans. These changes are expected to reduce the costs of administering the City's health insurance plans and to encourage vendors to offer the most competitive pricing, all while preserving meaningful choice in coverage options for members.
As a way to further contain costs, the City will now offer a Value HMO plan designed to generate cost savings through a limited network, deeper provider discounts, and/or alternative payment arrangements. Recognizing the growing costs of prescription drugs, the City and PEC will issue an RFP to explore the option of carving out Prescription Drug benefits to promote transparency and to lower costs through competitive pricing terms rather than restricted coverage.
The new agreement is responsive to impacts of the Affordable Care Act. For non-Medicare plans, the City and PEC worked together to make plan design changes and introduce an out-of-pocket maximum lower than the Affordable Care Act limit. These measures will reduce potential impact of the excise tax through increased employee co-pays, but still protect employees from financial risk caused by major illness or injury. In addition, if a health plan is at risk of hitting the excise tax threshold, the City and PEC have agreed to make further plan design changes to avoid triggering the excise tax.
The agreement accepts the extension of MGL Chapter 32B Section 19 through June 30, 2020, which allows the City to negotiate health insurance with the unions collectively and to continue building on the cooperative relationship that developed by working closely with the unions under the previous PEC agreement.