Labor, Racism & Justice in the 21st Century
When: Thursday, Feb. 19, 4-6PM Where: Harvard Law School, Ames Court, Austin Hall Rev. James M. Lawson Jr. Pastor Emeritus, Holman United Methodist Church, Los Angeles, CA Rev. James Lawson played a crucial role in the U.S. civil rights movement and waging labor struggles including during the fateful Memphis sanitation strike in which Martin Luther King, Jr. was assassinated. Today Lawson continues to lecture on principles of nonviolence, while giving support to the peace movement and campaigns for a living wage.
AFRAM Black History Celebration
When: Saturday, February 21at 7:00pm Where: Kays Oasis, 1125 Blue Hill Avenue, Boston
Dancing, refreshments, a little bit of history and a whole lot of fun! Dress to impress! Note: Adults only event.  Tickets: $8 for AFRAM members, $10 for non-members and general public, $12 at the door for everyone. Buy tickets from AFRAM members or stop by 1199's Boston office. For more information, contact Teia at 617-284- 1121.
Organizing Our Future 2015 Conference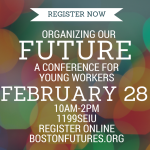 When: Saturday, February 28,10AM - 2PM. Where: 1199 SEIU, 150 Mt. Vernon St., Dorchester
The annual Greater Boston Labor Council's 'Organizing our Future' conference brings together young workers to look at lessons they can learn from our labor move­ment's history, discuss the future of our labor movement, and learn more about your rights at work. Note: there is no cost to attend. For more information, contact Lindsay McCluskey at lmccluskey@gblc.us or 617-723-2370.
Western Mass JWJ Educational, Organizing & Membership Conference Step It Up. We Won't Back Down!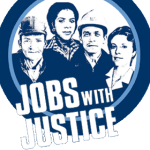 When: Saturday, February 28, 2015. 10AM-4:15PM (in­cludes lunch) Where: Trinity United Methodist Church, 361 Sumner Avenue, Springfield MA
Sliding scale donation of $5 to $25 to cover costs. No one will be turned away for lack of a donation. Keynote Speaker: Sarita Gupta, Executive Director, Jobs with Jus­tice. Music by Ben Grosscup & Roxanne Langevine.
*Labor Guild Spring '15 Term starts March 9 -- Registration opens February 14.*