This Valentine's Day, join workers and advocates to promote the Fight for $15 and show our appreciation for retail and restaurant workers.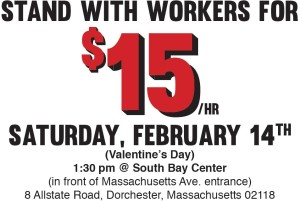 The minimum wage in Massachusetts just went up to $9/hour, but there is still more work to do before we reach a real living wage.
So let's stand together for $15/hour! Join us for a stand-out/speak-out action in front of South Bay to raise awareness of the Fight for $15 among workers and shoppers.
Our movement is gaining momentum. Just this month, legislation was filed requiring corporate "big box" retailers with more than 200 employees in Massachusetts to pay a $15 living wage to workers!
When? **Valentine's Day! Saturday, February 14th, 1:**30PM - 2:30PM
Where? South Bay Center (in front of Bank of America/Massachusetts Ave. entrance) 8 Allstate Road, Dorchester, Massachusetts 02118
Hosted by the #WageAction Coalition. To see a full list of coalition members, visit //wageaction.org/coalition/
Like us on Facebook: //www.facebook.com/WageActionMA Follow us on Twitter: //www.twitter.com/wageaction Find us on Instagram: @WageAction Visit our website: www.wageaction.org Stay in the loop: Text #WageAction to 30644
Download and print a flyer for the action here.