Twenty union staffers from five unions gathered at SEIU Local 888 for a training session on ways to lift lower paid union members out of poverty.
[caption id="attachment_5771" align="alignright" width="300"]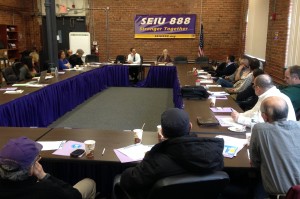 Mark DelloRusso and Lisa Field lead a training session with union staff on winning $15 for union members. Other presenters included Russ Davis from Jobs with Justice, John Grossman from Local 509, Harris Gruman from the SEIU State Council, and Arvid Muller from the SEIU Research Dept.[/caption]
The session was organized by the #WageAction coalition and is part of the growing movement of low wage workers to win $15 an hour.  The broader movement to Fight for $15 has created a new and more positive context for winning $15 at the bargaining table.
"Workers' wages have been falling for too long," said Mark DelloRusso, president of Local 888.  "When large, profitable corporations like McDonald's hold down wages and benefits, it hurts all of us. But big corporations aren't the only low wage employers. Far too many members of SEIU Local 888 -- and many other unions -- aren't making living wages either."
The Fight for $15 is about boosting pay and putting more money into the hands of working families.  Where it succeeds, it puts more money back into our communities -- which in turn creates more good jobs.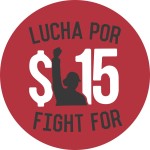 "If more union members start winning $15 at the bargaining table, it will make collective bargaining more appealing to the majority of the low-wage workers who aren't in unions yet," said Russ Davis, director of Jobs with Justice, a community-labor coalition that has been spearheading the Fight for $15.
On April 14, fast food workers, retail workers, PCAs, adjuncts and part time faculty, and thousands of union members are going to stand up for good jobs that pay enough for a secure future. The march and rally -- and many more actions and strikes -- will strengthen our hand in the Fight for $15 at the bargaining table.
Download a flyer to promote the April 14 #WageAction rally by clicking here.
For more information about the rally or to get stickers and other Fight for $15 materials email rwilsonseiu888org.