Local 888 was recognized by the International Union for exceeding our goal for signing up new COPA contributors giving an average of $10 a month.  President Mary Kay Henry wrote: "After three years of focused work, your local has made a significant leap forward in your COPA fundraising for 2014... I'm incredibly proud of what we accomplished together."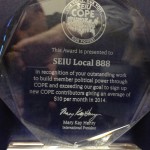 The letter was accompanied by a beautiful award (pictured at right) inscribed with the following message: "This award is presented to SEIU Local 888 in recognition of your outstanding work to build member political power through COPE and exceeding our goal to sign up new COPE contributors giving an average of $10 a month in 2014. "
Local 888 President Mark DelloRusso said, "I want to thank all of the members who have stepped up to help Local 888 build our political power and meet our COPA obligations to SEIU.  Dan Hoffer and Jamie Gaynes have done an outstanding job!"
[caption id="attachment_5861" align="aligncenter" width="300"]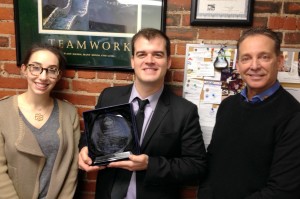 Political Organizer Jamie Gaynes, Political Director Dan Hoffer and Mark DelloRusso with the award from Mary Kay Henry.[/caption]
For a copy of the entire letter regarding COPE contributions from President Henry, email Local 888 Political Director Dan Hoffer at dhoffer@seiu888.org