Are you covered by the state or in a municipal agreement that is linked to Group Insurance Commission (GIC) rates?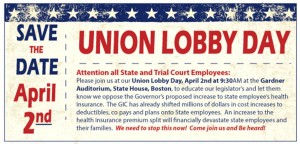 If so, please attend a Lobby Day at the state house to educate your legislators on the impact of recent GIC cost-shifting measures, including Governor Baker's budget proposal to significantly raise health insurance costs for state employees.
Please attend and let your lawmakers know about the impact these changes will have on you and other working families!
The Lobby Day will be on April 2 starting at 9:30 AM. Meet at Gardner Auditorium in the State House.
If you can't make it to the State House, visit www.WheredoIvoteMA.com to find your Representative and State Senator and call the State House at (617) 722-2000.
Tell them where you live and that you are a constituent. Send your elected officials the message that, "Now is not the time to shift healthcare cost to workers and retirees."