Hundreds of state and municipal workers swarmed the State House on April 2 to urge law makers not to raise to 25% the share of health insurance premiums paid by state workers grandfathered at lower rates. The Group Insurance Commission has already approved increases to employee co-pays and deductibles that will further increase out-of-pocket costs for workers.
[caption id="attachment_5890" align="alignright" width="300"]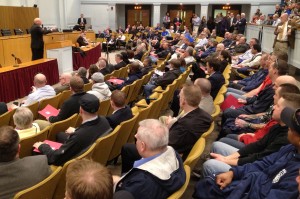 State and municipal workers at the recent health insurance
lobby day at the State House.[/caption]
Taken together, these changes represent $160 million in increased costs for employees next year and put an unreasonable financial burden on working families. Health care costs are crowding out essential public services, including education and public safety.
"Shifting health insurance costs from the state to the individual does nothing to solve the problem of out-of-control health care costs that plagues Massachusetts more than any other state," said Mark DelloRusso. "While the state is in a strong position to address the problem of rising costs, it's just plain wrong to ask members to keep paying more -- without reforms or cost saving measures that similarly impact the insurance industry. Without a parallel effort aimed at the insurance industry, public service workers will end up bearing the full burden for problems in the health care system."
Members are urged to tell their legislators to oppose any increase to the state employees' share of health insurance premiums.   Instead, the cost savings already achieved through changes to co-pays and deductibles in the next fiscal year should be used to lower the premium contributions for employees hired after 2003 who are currently paying 25 percent.