A new report from Keystone Research Center and Good Jobs First finds that taxing top incomes at the same rate as the middle class could fund critical state priorities, including education, infrastructure and public pensions. The report finds that states could generate large amounts of additional revenue to meet public needs by fixing inequities in state tax codes.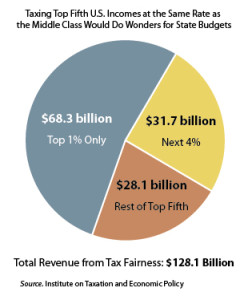 The study shows that surging inequality has skewed huge amounts of income to the one percent, who pay far lower tax rates than the middle class, squeezing state budgets unnecessarily. Making tax codes fairer is shaping up to be a political priority for organizations that advocate for working people, including here in Massachusetts, where some groups are considering proposing a constitutional amendment.
To read the full report visit //keystoneresearch.org/taxfairness.