SEIU Local 888's Committee on Political Action has been meeting with members across the state to talk about what matters most to them and how political action by members can increase dignity and respect on the job.
[caption id="attachment_5929" align="alignright" width="300"]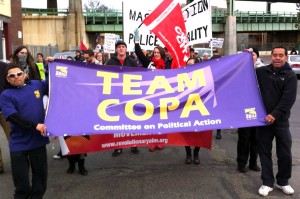 Marching for the Rights of Immigrants:  Elmer Arriaza, a steward at the Chelsea Soldiers Home and Enio Lopez, Chelsea Soldiers Home marching in the May 1 parade. Not shown is Rosa Matias from Chelsea City Hall.[/caption]
The April 23 COPA meeting in Worcester was attended by Khystian King, a Local 509 member and Worcester City Council candidate who spoke about his vision to improve the city's educational system, the importance of safe neighborhoods, and continuing to support working families. The committee voted to endorse him and is proud to support such a strong, pro-union candidate.
The committee also discussed the positive progress of the campaign to increase unrestricted Local Aid by five percent. SEIU Local 888 has distributed over 500 postcards for members to send to their elected officials urging them to support funding for cities and towns. As a union, we have the power to stand together and effect positive change in the legislature!
The COPA meetings will continue to rotate across the state in order to involve more members. Our next meeting will be on May 21 at 6PM in Local 888's Springfield office, 1275 Elm Street, West Springfield, MA 01089. The meeting is open to all Local 888 members. See you there!
Do you want post cards urging the legislature to increase local aid? Contact Local 888 Political Director Dan Hoffer at dhoffer@seiu888.org or call 617 642-3588.