On April 27 the Tyngsborough Board of Selectman honored Local 888's Tyngsborough Town Highway Department in recognition of its collective snow removal efforts during this historic winter season. Chairman Robert Jackson and the
[caption id="attachment_5937" align="alignright" width="300"]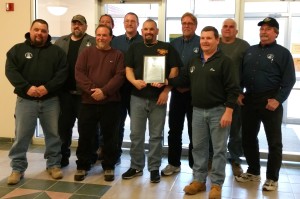 The Tyngsborough Board of Selectman honored Local 888's Highway Department members in recognition of their snow removal efforts during the 2014-2015 winter season.[/caption]
Tyngsborough Board of Selectman commented on the Highway Department's efforts and presented them with a plaque of recognition.
Local 888 Secretary-Treasurer Brenda Rodrigues was on hand to witness the presentation. Chairman Jackson elaborated on the efforts demonstrated by the Highway Department for reporting to duty at all hours of the night. Jackson further commented on the long shifts required and the Highway Department's ability to perform their duties professionally even if they are fatigued.
Member Jim Hustins said that Highway Department workers were very pleased to be recognized for their efforts. "These workers are conscientious and understand that they must be good representatives of the town while working alongside the plows that remove snow by contract. Our members work hard and lead by example for these contractors because generally damaged property will soon become their responsibility of repair when the weather breaks," said Hustins.
Local 888 congratulates the members of the Tyngsborough Highway Department for this recognition and all highway department members across the state who worked so hard this winter.