Local 888 is looking for stories from City of Boston members about why they would need the new paid family leave benefit or how beginning a family without the benefit has been a hardship.
[caption id="attachment_6063" align="alignright" width="300"]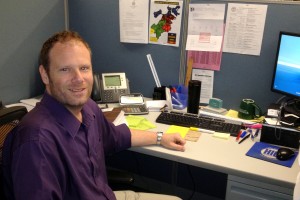 City of Boston employee William Epperson has twins on the way, and says that a paid family leave policy would be a huge benefit for him and his growing family.[/caption]
Local 888 members who work for the City of Boston are understandably outraged by the Walsh administration's decision not to extend the new paid family leave benefit to all city employees. Which is why Local 888 leaders are not going to stand by idly while members justifiably need this benefit now. The union's political department is working with members of the City Council to prepare a new city ordinance to extend the benefit. Local 888 has also retained a benefits consultant to calculate the anticipated costs of extending the benefit to all city employees based on the utilization experience of workers in California and New Jersey who already have paid family leave. (Hint: very preliminary estimates show that it is not going to be a high cost item.) Finally, we are preparing to build a pro-family, pro-health care coalition to broaden public support for extending the benefit to all employees. Do you have a story to tell? Please contact Rand Wilson 617 398-7102 or rwilson@seiu888.org.