Congratulations to Local 888 member Rosa Matías, for being named one of the top 100 most powerful people in Massachusetts by El Planatera, Boston's Latino daily. El Planetera singled Matias out for her activism and work supporting Democratic candidates.
[caption id="attachment_6136" align="alignright" width="140"]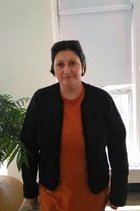 Rosa Matias[/caption]
"Rosa Matias is the treasurer of the Latino Democratic Caucus. Rosa has focused on supporting a large number of democratic electoral campaigns. She is also an active in other organizations from social justice and environmental conservation to low-income communities and ethnic minorities."
Matias works at Chelsea City Hall and is an active leader in Local 888's Latino Caucus and member of the COPA committee. Congratulations, Rosa!