Each year the School Nutrition Association of Massachusetts (SNA) chooses one food service employee to be Super Lunch Hero of the year. This year the students and staff of the Station Avenue Elementary School in South Yarmouth nominated Missy Gauvin with a massive letter writing campaign, but they didn't tell her. In fact, Gauvin, who is a third generation lunch lady, wasn't even aware that she'd been nominated.
[caption id="attachment_6140" align="alignright" width="300"]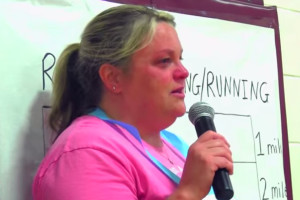 Missy Gauvin, the kitchen manager at the Station Avenue Elementary School in South Yarmouth, has been named Super Lunch Hero of the Year. More than 400 students and staff from her school wrote letters on her behalf.[/caption]
So what happened when Gauvin was the featured guest at a surprise party on May 8th where the entire school gathered to inform her that she'd won? "Speechless," would be one way to describe Gauvin's reaction as she arrived in the school gym to find hundreds of students chanting her name.
The award ceremony featured excerpts from some of the more 400 letters sent by students and staff to recommend Gauvin for the honor. One student wrote "I know Mrs. Gauvin works hard because she has stains on her apron!" Another wrote: "When you smile, the whole world stops and stares," adding that he considers Gauvin a personal friend and would be glad to provide a shoulder for her to cry on should she ever need one.
Gauvin told the packed gym that she was shocked by the award. "I thought I was getting in trouble," she said. "I get very excited to come to work knowing that I get to see each and every one of you. I get far more from all of you than you get from me. I feel like I have 500 best friends in this room," she said.
Gauvin, who is the kitchen manager at Station Avenue Elementary, comes from a long line of lunch ladies— three generations to be precise. Her mother and her grandmother were lunch ladies in the Barnstable School District. In the 1970s, Missy's grandmother, Shirley Jones, worked in a school dedicated to special needs students only. An annual award was dedicated to Mrs. Jones and presented to the "Most Improved Student."
Gauvin will be attending a Nutrition Conference in September, proudly representing DY Regional School District. In the meantime, she is the recipient of a "Number One Lunch Lady of the Year" apron which she wears with pride!