Members often have questions like "What do I get for my dues?" or "How does the union benefit me?" and "Why are we part of SEIU (and what do those initials stand for anyway)?"
Local 888 is preparing three new publications to help you answer these and many other questions about the benefits of membership, the rights and responsibilities of members, and how to better organize your chapter and access your chapter funds.
The three new publications are: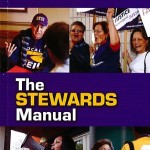 • "All About SEIU Local 888" • "Getting the most out of your union" • "Using your Chapter Funds for a stronger union"
They will be available in hard copy after August 1 and on the website soon thereafter.
Members may also request a copy of the SEIU Stewards Manual that provides many valuable lessons and tips for union stewards.
Write to myunion@seiu888.org with your chapter name and home mailing address if you would like any of these publications sent to you