IBEW and CWA are calling on union members and allies to turn out for a rally on the day before their contract, covering 39,000 Verizon workers, is set to expire. This comes amid another tough round of contract negotiations with Verizon, which may lead to a showdown on August 1st.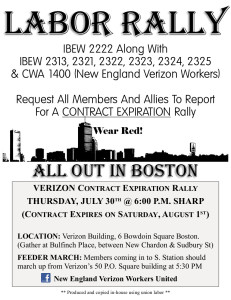 Join other members of Local 888 at the rally to support workers at Verizon who want good jobs and to provide quality service, NOT higher executive pay and more lay-offs.
Stand in solidarity with workers against Verizon's corporate greed!
When: Thursday, July 30th
6:00 PM
**Where: The Verizon Building at 6 Bowdoin Square, Boston ** (Corner of Cambridge and New Chardon Streets)
For more information go to //standuptoverizon.com/