For Peter Lanceleve, the Chelsea Soldier's Home is more than just a place of employment. It's a family tradition. Lanceleve, who works as a nurse, is a third generation employee at the home, following in the footsteps of his grandmother and his mother. "My grandmother worked here for more than 35 years, in a whole range of jobs—transportation to outpatient services. My mother ended up becoming a supervisor. I can remember visiting the home and talking to the veterans when I was just a kid," says Lanceleve.
[caption id="attachment_6219" align="alignright" width="300"]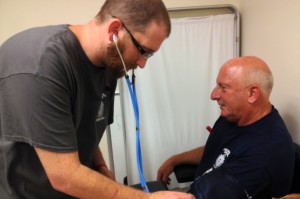 Nurse Peter Lanceleve practices his skills on Rick Moffatt at the Chelsea Soldier's Home. Working at the home
has been a Lanceleve family tradition for 90 years.[/caption]
In fact, the 35-year-old Lanceleve wasn't much more than a kid when he got his first job at the health care facility for veterans: in the kitchen while he was still attending high school. But an early interest in medicine, inspired by his own experience having knee surgery, stuck with him. When he graduated, Lanceleve took a CNA class before going on to earn a nursing degree from what was then the Soldier's Home School of Nursing.
When he's not tending to one of the 400 veterans who reside at the home, Lanceleve is an active member of the union. During the past ten years, he's served as a steward and secretary-treasurer and was recently elected chapter chair. Lanceleve says that he was inspired to get involved after seeing coworkers being treated unfairly. He was convinced that by building a stronger union, he could help. "The way I look at it, if you have the ability to help someone, how can you not help them?"
While Lanceleve recently celebrated his 18th year working at the Chelsea Soldier's Home, he confesses that there are still days when he can't quite believe that he is continuing the tradition started by his grandmother so many years ago. "When I was young, some of the guys at the home scared me a little. I never imagined that this was where I'd end up, but it's such rewarding work. I can't imagine doing anything else," says Lanceleve.
Do you have a story to share? Please contact Rand Wilson at rwilson@seiu888.org.