Local 888 leaders and staff were on hand at the annual Greater Boston Labor Council Labor Day Breakfast to welcome a special guest: President Barack Obama. President Obama used his visit to Boston to pay tribute to the new earned sick time law that was recently enacted in Massachusetts thanks to the efforts of a broad coalition of community organizations and labor unions, including Local 888. The measure went into effect in July and is expected to provide 900,000 workers with paid sick time who previously had none. (See related story on next column). More than 700 union members, leaders and state officials packed a downtown hotel for the event.
[caption id="attachment_6187" align="alignright" width="300"]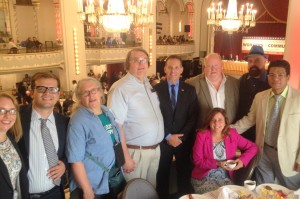 Staff, leaders and guests of Local 888 attended the annual Labor Day breakfast in Boston where this year's featured guest was President Obama.[/caption]
On hand from Local 888 were **Tierney Flaherty, Dan Hoffer, Anna Reno, David Reno, Mark DelloRusso, Michelle Dubois, Mike Kelly, Juan Lopez and Jorge Vargas. ** While in Boston, President Obama announced a new executive order extending paid sick time to the employees of federal contractors. He also had a few choice words for Republicans, including the presidential contenders, who he described as engaging in a "constant attack on working Americans." Obama argued that Republicans who claim the mantle of middle class protectors don't "walk the walk." He singled out several of the GOP presidential contenders for what he described as their extreme hostility to unions, including Wisconsin Governor Scott Walker and New Jersey Governor Chris Christie, who recently proclaimed that the teacher's union "deserves a punch in the face." By contrast, Obama used his Labor Day speech to argue that unions have been essential to building a middle class in the US. Obama also shouted out to Boston's best known union member: Tom Brady. "Even Brady's happy he's got a union." Fight for $15, and Fairness There was plenty of action outside the Park Plaza Hotel as well. Members of the Carmen's Union held a rally opposing a plan to privatize certain MBTA bus routes. And after the breakfast members of Local 888's sister local, Local 32BJ District 615 marched and rallied to support the Fight for $15.
[caption id="attachment_6235" align="alignright" width="300"]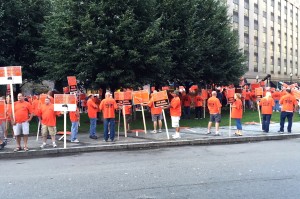 Members of the Carmen's Union protested outside of the
hotel where President Obama spoke on Labor Day. The largest labor group at the MBTA says that a plan to privatize
certain bus routes is the first step on the way to diminishing service and increasing fares.[/caption]
Mark DelloRusso, President of Local 888, says he anticipates a busy year ahead as momentum grows behind the movement of workers who are standing up to raise wages and fight for justice on all fronts. "We've shown in Massachusetts that when you stand up and make your voices heard, you can have a powerful impact," said DelloRusso. "Now our challenge is to carry that momentum forward and raise up the issues that matter to all of us."