The new sick time law approved by Massachusetts voters last fall is being heralded around the country as a major step forward for workers' rights. But there's at least one group of workers who aren't covered by the law: municipal workers, especially part-timers, who don't get paid sick days through one of the state's 351 cities or towns. Now some municipal workers and their unions are pushing back.
[caption id="attachment_6215" align="alignright" width="300"]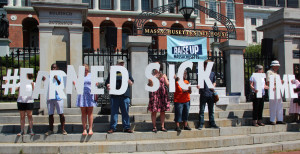 Supporters of the new sick time law rally at the Statehouse. The law went into effect this summer.[/caption]
The sick time law, which went into affect in July, provides workers—including part-time and seasonal workers—with one hour of paid sick leave for every 30 hours worked. But there's a catch. The state constitution prohibits cities and towns from being forced to increase spending on employment costs. That means that while private employers have to extend the new benefit to workers, municipalities don't. In Boston, for example, an estimated 3,200 workers get no paid time off when they're sick.
Local 888 wants to hear from you about your experience with the new sick time law.
Are you now getting paid sick time thanks to the new law? Are you a part-time municipal employee who still lacks access to paid sick time? Your stories will help Local 888 work to strengthen the new law.
If you have a story to share, please contact Rand Wilson at rwilsonseiu888.org.