Local 888 members recently took to Beacon Hill in an effort to convince legislators that the nature of their work merits shifting their state pension classification to a new group.
[caption id="attachment_6297" align="alignright" width="300"]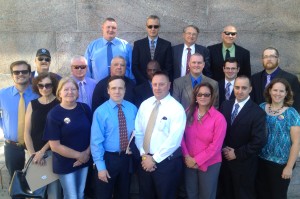 Public safety workers and Local 888 members recently urged legislators to move them from Group 1 to Group 4 within the state pension system.[/caption]
State Police Dispatcher Nichole Annunzio told legislators that while she has been on the job for 14 years, assisting the uniformed branch in the field, she questions just how long she'll be able to continue. "I am proud to say that there is no other job I'd rather be doing. Dispatching is a profession that is usually short-lived due to high stress and secondary trauma exposure." Annunzio told legislators that the best way for them to recognize the importance of public safety workers like her would be to "allow us to retire with dignity at a reasonable length of service."
Leo Bobek, Mary Montesalvo and Thomas Regan, all of whom work with nuclear material at the non-power nuclear reactor at UMass Lowell, described how their jobs put them in harm's way. "For some of our job tasks, the potential exists for significant radiation exposures. As licensed reactor operators, we are also required to be first responders for any emergency incident at the facility."
In gripping, often graphic testimony, Local 888 members described their roles as "unseen first responders." Dispatcher Michael Maxwell, who workers at State Police headquarters in Framingham, talked about the 911 calls that have affected him the most during his 10 year career, and urged legislators to change the classification of safety workers like him to better reflect the demands of the job.
[caption id="attachment_6298" align="alignleft" width="300"]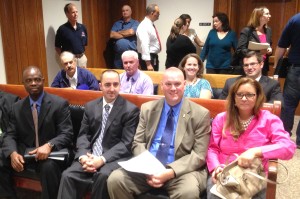 Local 888 members at hearing on upgrades for the state pension system.[/caption]
"Allowing state police dispatchers to retire with dignity before they hit 65 just makes sense for them, and especially the safety of the public who looks to them on what is possibly the worst day of their lives."
Testifying before legislators were State Police dispatchers, Boston Police dispatchers, Housing Authority electricians, nuclear reactor workers, nursing assistants and LPNs at the Soldiers Homes and the Military Division's installation security officers.