Local 888 is actively supporting an initiative petition campaign for a constitutional amendment creating an additional tax of four percentage points on annual income above one million dollars for new investment in quality public schools, affordable higher education, and improvements in public transportation.
[caption id="attachment_6477" align="alignright" width="300"]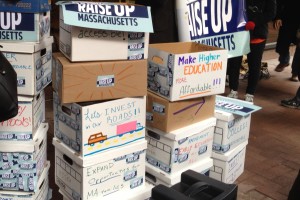 Boxes containing the more than 155,000 signatures gathered in support of a "millionaire's tax" to support education and transportation.[/caption]
Local 888 members collected over 1,600 signatures for the campaign, spearheaded by the Raise Up Massachusetts coalition. On Dec. 1, the coalition turned in over 155,000 signatures to pass the first main qualification to get the Fair Share Amendment on the ballot.
Regina Capone, Sue Noel, Jorge Vargas, Brenda Rodrigues, David Reno, Mark DelloRusso, and Lori Moran among others collected signatures for the campaign.
"If we win, these new taxes paid only by millionaires will fund the pressing needs in education and transportation while creating new opportunities for our state's economic growth," said Mark DelloRusso, president of Local 888. "I'm proud that we could be part of the overall effort."
Turning in the signatures is just the first step among many.
Members who want to support the campaign should contact Local 888 political director Dan Hoffer at dhoffer@seiu888.org. For more information, visit: www.raiseupma.org/constitutional-amendment-campaign/.