Clerical, technical and professional employees at Emerson College are working with Local 888 organizers to form a new union on their campus. Workers have formed a group called "Our Emerson" to educate their colleagues about the advantages of collective bargaining and work on winning majority support in the proposed bargaining unit of roughly 300 people.
[caption id="attachment_6472" align="alignright" width="300"]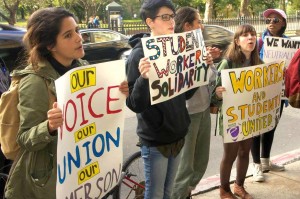 Students at Emerson College hold a rally to show their support for staff who are seeking to form a new union.[/caption]
The staff have a very broad range of concerns including employment security, fair wages and better benefits, and strengthening their voice in college governance.
The committee has built a strong coalition on campus that includes, students, the faculty, food service staff and campus police.
The students have been especially supportive. They recently held a rally where a delegation went to the president's office to present a petition requesting that, "the administration remain neutral in Emerson Clerical Workers' process of unionization... and refrain from sending out communications that disparage unions, hold mandatory union information meetings, or otherwise attempt to dissuade employees from exercising their right to organize.
For more info, visit www.ouremerson.rocks.