Last fall, Local 888 members helped collect more than 158,000 signatures to qualify a new constitutional amendment for the ballot that would raise $1.5 billion in new revenue by raising taxes on annual incomes over $1 million.
[caption id="attachment_6528" align="alignright" width="300"]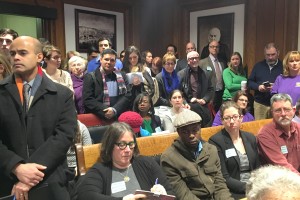 The Jan. 19 statehouse hearing was packed with supporters from labor unions, community organizations and public interest groups.[/caption]
It was a crucial first step. Now it needs support from 25 percent of state legislators. The first opportunity to win support was at a public hearing by the Joint Committee on Revenue, held on Jan. 19.
The proposal would invest over $1.5 billion in new revenue in quality public schools, affordable higher education, and transportation by asking millionaires to pay an additional tax of four percentage points only on annual income above $1 million.
"Currently, the highest income one percent of taxpayers in Mass pay a smaller share of their income in state and local taxes than the other 99 percent," said John Miller, an economist at Wheaton College. "If they paid their fair share – the same share as the rest of us – we would be able to make investments in people and physical infrastructure that could strengthen our economy, expand opportunity, and directly improve the life prospects of children and families across our state."
The Millionaires Tax already faces stiff -- and well-funded opposition. Associated Industries of Massachusetts, Beacon Hill Institute, Massachusetts Taxpayers Foundation and Citizens for Limited Taxation all had representatives testify against the amendment at the hearing.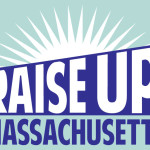 If the proposal is advanced by the legislature at a Constitutional Conventions this session and in the 2017-2018 session, the question would go to voters in Nov. 2018.