The Committee on Political Action met on February 11 to discuss upcoming special elections in Weymouth and East Boston. We reviewed three questionnaires from candidates in the East Boston race, including, Lydia Edwards, Jay Livingston, and Diana Hwang.
[caption id="attachment_6628" align="alignright" width="300"]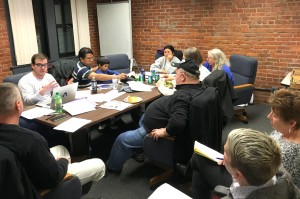 COPA members Tom Mckeever, Daniel Hoffer, Jorge Vargas, Rosa Matias, David Reno, Mike Kelly, Brenda Rodrigues and Rudy Renaud met on Feb. 11 to review candidate questionnaires and make an endorsement.[/caption]
After much deliberation the committee decided to endorse current State Rep. Jay Livingston for the State Senate Special election. Jay stood out for his service and support for SEIU priority campaigns like the Fight for $15 and the Airport Workers campaign.
Next COPA meeting will be at 6:30 PM on March 15 at the SEIU Local 888 union hall. Agenda includes SEIU State Council endorsement process and new Local 888 Political Action Committee. Dinner provided. Please RSVP by March 14 to Local 888 Political Organizer Joe Lazzerini (508)418-3370