A strong majority of Boston University librarians voted to form a union with SEIU Local 888 in February. The vote was supervised by the National Labor Relations Board.
"Everyone took time to educate themselves about the issues and vote in the election," said Steven Alexandre da Costa, a librarian at the Fineman and Pappas Law Library. "We are pleased to join the vast majority of our colleagues at Boston University who are already union-represented.
[caption id="attachment_6641" align="alignright" width="200"]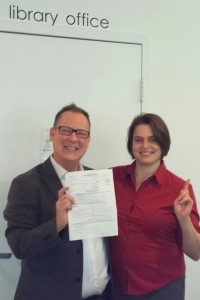 Law librarian Steven Alexandre da Costa celebrates union win with Local 888 organizer Colleen Fitzpatrick[/caption]
"We hope to move quickly into negotiations with management for our contract and gain a voice in the decisions that are so important in our professional lives. As a previous member of the Association of Professional Flight Attendants, I've learned the value of having a voice at the proverbial table."
The workers will be joining librarians at Mugar library who are already united in Local 888 and recently achieved a new agreement with BU.
"It's exciting that the other librarians will be joining us!" said Susan Wishinsky, a Local 888 member at Mugar Library for 35 years. "Simply put, collective bargaining gives us a seat at the table. Management can't ignore us, and our concerns are heard beyond the library walls. Bringing all of us together will give us an even stronger voice in our future."
In addition to the librarians, adjuncts and part-time faculty at BU have recently organized, and workers in building services, food service, clerical and technical occupations already participate in collective bargaining.
"It really is a win-win for everyone," added da Costa. "My hope is that our example inspires other professionals in higher education and other fields to consider unionization."
"Local 888 unites workers in both public and private colleges and universities in Massachusetts," said Mark DelloRusso, president of Local 888. "It's exciting to be part of an upsurge of workers in higher education who are demanding a voice in making their schools the best that they can be."