An overwhelming majority of Emerson clerical, technical and professional employees in the academic affairs unit voted to form a union with SEIU Local 888 on April 7. The vote was supervised by the National Labor Relations Board (NLRB).
[caption id="attachment_6713" align="alignright" width="300"]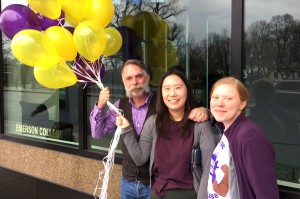 Emerson staff celebrate their union election victory.[/caption]
Employees at the college formed a committee of their co-workers to educate one another about the advantages of collective bargaining and build a strong internal network of supporters. The committee also reached out to other campus unions and to students for support during the organizing process. Other higher education unions at colleges and universities throughout the metropolitan area also expressed their solidarity.
"I'm proud to be part of this great group of people who worked so hard to achieve this victory together – 59 to 7 is a resounding affirmation!" said Estelle Ticktin, an administrative assistant in the Communication Sciences and Disorders department.
"We met with President Pelton and the senior leadership team before the election to discuss our shared values and our desire to make Emerson a great school and an even better place to work," said John-Albert Moseley, a program coordinator in the Visual and Media Arts department. "We hope to move quickly into negotiations with management for our first contract."
[caption id="attachment_6714" align="alignleft" width="300"]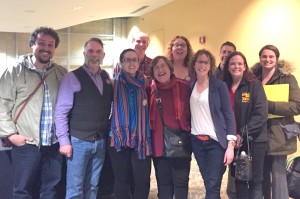 Emerson staff celebrate their union election victory.[/caption]
Emerson staff will now democratically choose a committee of their co-workers to participate on a bargaining committee, who along with professional staff from SEIU Local 888, will meet with management to negotiate their first agreement.
"We're thrilled with this victory and we are excited about the prospect of our other colleagues joining with us in the near future," said Shaylin Hogan, a senior administrative associate in Writing, Literature and Publishing.
The workers will be joining hundreds of similar employees at UMass Lowell, Boston University, and Brandeis University who are already united in Local 888.
"Local 888 unites workers in both public and private colleges and universities in Massachusetts," said Mark DelloRusso, president of Local 888. "It's exciting to be part of an upsurge of workers in higher education who are demanding a voice in making their schools the best that they can be."
To learn more about the Emerson staff union, visit www.ouremerson.rocks.