RSVP here! Thursday, April 14th, 3:30PM MA State House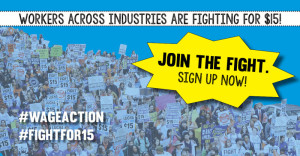 On April 14th, low-wage workers and allies will join together nationwide for a historic movement to Fight for $15. You won't want to miss it.
For every hard working underpaid worker who dreams of a better future for their family - and for every person who believes that's a dream worth fighting for, this is it. This is the day to be louder, stronger, and more united than we've ever been.
Together we're turning the tide in favor of working people and our families. And we'll need everyone's help -- including members of Local 888 -- to make this a reality.
Are you fed up with working families being forced to survive on poverty wages, while being exploited by companies raking in billions of dollars of profit? On April 14th, 2016, SEIU members are taking to the streets to do something about it.
Will you be there to stand up for $15/hour?   RSVP here!
Come for the Rally stay for a Drink!
All SEIU Local 888 members who attend the rally on April 14 at 6pm will receive a drink ticket and an invitation to meet up with other members at Scholars Bistro (25 School Street, Boston) for a member social directly after the State House Action and march.
Click here to take a take a look at the list of busses coming to Boston from across the State and RSVP.