SEIU President Mary Kay Henry was in Boston in early April to meet with leaders of the Massachusetts SEIU locals about the agenda for the union's 2016 convention.
[caption id="attachment_6701" align="alignright" width="300"]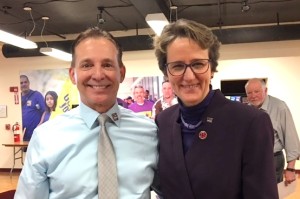 Local 888 President DelloRusso with SEIU President Mary Kay Henry at pre-convention meeting in Boston.[/caption]
Local 888 officers Mark DelloRusso and Brenda Rodrigues along with Field Service Director Jen Springer attended the meeting.
The pre-convention meeting was an opportunity to discuss the present moment, the purpose of the SEIU convention and hear President Henry's remarks on how SEIU is "strong, resilient and unstoppable."
Participants then discussed what it will take to win future victories and the core concepts that have emerged from the union's Racial Justice Task Force:
There can be only be economic justice if there is racial justice;
Ending anti-Black racism is all of our self-interest;
Together, we can take this on to achieve racial justice.
The meeting wrapped up with an overview of the convention and discussion about the Fight for $15.
SEIU members are united by the belief that when we come together we can meet any challenge we face.  At the SEIU 2012 convention, delegates adopted SEIU's "Vision for a Just Society: where all workers are valued and all people are respected; where all families and communities thrive; and where we leave a better and more equal world for generations to come."
Even with all of success that SEIU members have achieved, there is much more to do to ensure families can realize this vision for a just society.
The SEIU convention will be held in Detroit from May 19 through May 21.