Nearly 40,000 Verizon and Verizon Wireless workers are on strike for good jobs with quality health and retiree benefits.  Below are some ways that SEIU members can show their support.  An injury to one is an injury to all!
1) Get some union members together and take a photo showing your solidarity with the strikers.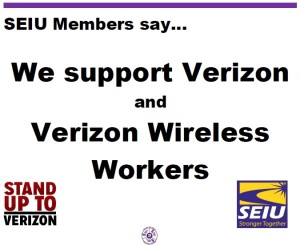 Print out this message of solidarity, "SEIU Members say we support Verizon workers" or make your own sign for the picture.  Send your photos to rwilson@seiu888org. Local 888 will forward them to the appropriate people.
2) Contribute to the strike fund for Verizon Wireless workers set up by CWA members at AT&T Mobility.
You can do so here: https://www.gofundme.com/2v8c3rhc
Verizon Wireless store workers are striking for the first time ever at six stores in Brooklyn, NY and one in Everett, MA. They're still without a first contract, two years after they voted to join CWA. They make significantly less than their wireline counterparts and thus have less to fall back on during the strike.  Anything that can be done to support them and strengthen their morale and resolve in this fight is very helpful for them as workers and for the entire struggle with Verizon, since the company would love nothing more than to prevent unions from getting a foothold on the Wireless side.
3) Visit the Stand Up to Verizon website (//standuptoverizon.com/) and sign-up for updates there and on their Facebook page (https://www.facebook.com/standuptoverizon/).
That's where you can find the latest info on picket line locations, updates on the strike from the union, etc.
You can also circulate the petition supporting the strike to members and allies: //standuptoverizon.com/petition/