The bi-annual SEIU Local 888 Membership Convention will be held on Saturday, September 24, 2016 from 11:00 AM until 1:00 PM at 30 Braintree Hill Office Park, Braintree, Massachusetts.
[caption id="attachment_6865" align="alignright" width="300"]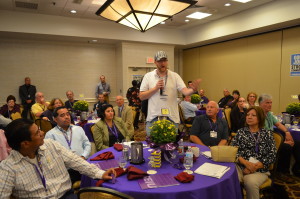 A delegate from the Chelsea Soldiers Home speaks out at Local 888's 2014 Convention.[/caption]
Registration opens at 10:30 AM.  After the convention adjourns, there will be an office warming and celebration of our new union headquarters in Braintree.
Members who pre-register for the convention by Sept. 9, 2016 will be eligible for a special door prize!
For more information and updates on the convention, visit SEIU Local 888 website at www.seiu888.org/convention