Declaring that healthcare is a "human right, not a commodity," delegates to the 26th International Convention unanimously passed a resolution that puts SEIU on record in support of national and state single-payer initiatives, often called "Medicare for All."
[caption id="attachment_6871" align="alignright" width="300"]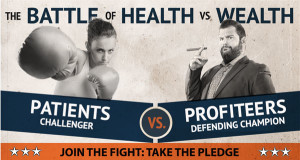 Click on this picture to take the Pledge to Fight for Single Payer Healthcare![/caption]
"Our local union was founded on the principle of quality healthcare for all," said Diane Sosne, President of SEIU Healthcare 1199NW whose local submitted the resolution. "The resolution we passed shows that SEIU stands alongside the majority of Americans who believe that we need to build a new healthcare system that works for everyone."
The resolution commits SEIU to support "enacting state-based single payer models and public options and, when politically feasible, will advocate for single payer on a national basis." It supports the core principles of healthcare justice and the inclusion of everyone, regardless of immigration status, under a single standard of care.
Until recently, SEIU focused most of its attention on defending and implementing the Affordable Care Act (ACA). But, in addition to 1199NW, a number of regional locals have been involved in state single-payer battles. For example 1199 Healthcare Workers East is a key supporter of New York Health, a bill that would establish a publicly financed universal healthcare system to cover all New Yorkers. And SEIU Local 1021 has been a strong supporter of the Campaign for a Healthy California.
"Local 888 is thrilled to have SEIU help lead the fight to win Medicare for All," said Local 888 Secretary-Treasurer Brenda Rodrigues. "Just as we have helped to change the terms of debate in the 'Fight for $15' campaign, we can be a game changer organizing the movement for healthcare for all!"
For more information about Labor support for Medicare for All, visit the Labor Campaign for Single Payer Health Care.