For local 888 member Joan McKenna, the battle against addiction is personal.  The lifelong Somerville resident and mother of four boys has seen the ravages of drug addiction in her family, on her street, and in her community.
[caption id="attachment_6933" align="alignright" width="201"]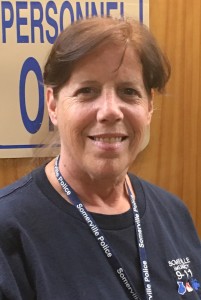 911 emergency operator Joan McKenna volunteers in support of drug addiction education and treatment programs.[/caption]
Her close friends, Dave and Kathy Harrington lived across the street and their kids went to school together.  When the Harrington's lost their son to a drug overdose, they started the Ryan Harrington Foundation to raise money and awareness about the issue. Joan wanted to help too and she pitched in to organize a yearly "corn toss" fundraising event for the foundation at Trum Field. All proceeds benefit Somerville youth groups.
The success of the annual corn toss event led Joan and other leaders of the Harrington Foundation to want to do more. This year they came up with the idea of a road race.
"We decided to call it, 'Just One Run' because everything starts with 'one.' One person, taking one step; one person getting the help they need; one person making a difference." The race was in memory of Sean Curtis, who died of an overdose this year.
Joan turned to her co-workers at the Somerville Police Department where she works as a 911 emergency operator to help build the event.  "My department is like an extended family.  They spread the word to their friends and family and it just took off."
Joan enlisted Local 888 staffers Dave Nagle and Ian Adelman to run and DJ Cronin to volunteer on race day. She also received an endorsement and financial support from Local 888.
"Nearly 400 people participated in the race," Joan said. "Local businesses donated race gear, t-shirts, food and drinks.  And we raised about $13,000! The support was just wonderful."
"We need to stop the stigma of addiction and educate people about it.  All walks of life are affected by it.  We need more and better treatment programs.  I'm just one member, but we can all help out with a cause. I'm really glad that my union was part of it."
Learn more about the Ryan Harrington Foundation at: www.ryanharringtonfoundation.org and don't miss the corn toss benefit at Trum Field on September 10.  Registration is at 10:00 am.