SEIU Local 888 members who work for the City of Boston met with housing advocates and neighborhood organizers on June 30 to discuss shared concerns.  Because of the tough residency requirement and the high cost of housing in Boston, Local 888 members are especially challenged to make ends meet on their city paychecks.
[caption id="attachment_6941" align="alignright" width="300"]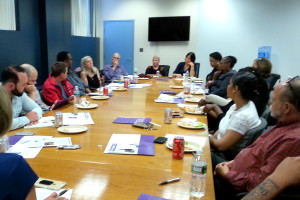 Union members and housing advocates gathered to discuss common concerns – and a potential collaboration.[/caption]
Christine Sullivan, a Program Manager at the Dept. of Neighborhood Developments' Boston Home Center was one of the members who attended the meeting. Her job is to help Boston residents purchase, improve, and keep their homes -- so she knows just how hard it is to survive the housing market in Boston.
"The meeting was great," said Sullivan.  "There are many possible ways we can collaborate.  These neighborhood housing groups are in the trenches all the time, so we learned something from them.  I think getting our union to work more closely with some of these community groups could help Local 888 members. Eviction touches everyone, whether it's a family member or a union member.  The cost of rent vs some of our member's low salaries just doesn't add up."
Steve Meacham, an organizer with City Life/Vida Urbana who attended the meeting had a similar reaction.  "It was great to have this discussion with union members who are familiar with the serious problems in the city and also experts in housing policy."
The housing advocates are campaigning for passage of a "Just Cause" eviction law. "It could be something we could get behind," added Sullivan.  But I think it will require more research. But we can let folks know [about this research] and we offer hope. And with hope, all things are possible."
"I'm confident this was the first of several brown bag lunch meetings.  Perhaps next time we can focus specifically on the proposed "Just Cause" eviction law so we have a better understanding of the whole bill."
"There was an interesting political alignment between the advocacy groups and Local 888 members," said Meacham. "Looking ahead, I think there are excellent opportunities for collaboration and mutual support."
In addition to City Life/Vida Urbana, representatives from the Boston Tenant Organization and Right to the City also attended the meeting.