Local 888 members attended the Women's Institute for Leadership Development (WILD) that was held at Bridgewater state university from June 24-26.
[caption id="attachment_6916" align="alignright" width="300"]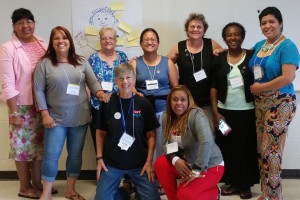 Local 888 Executive Board member Charlotte Killam (pictured third from left) attended the annual WILD meeting.[/caption]
Charlotte Killam (pictured third from left) said, "WILD trainings are always excellent because they are so well planned. Everyone takes a leadership class. You not only learn from the instructors but from everyone else in the classes. It's a very relevant learning experience for any steward or chapter chair.  You also build great comradery by talking with others about how they approach problems in the workplace."
UMass Lowell executive board member Susan Winning also attended. More info at wildlabor.org.