Please stand with SEIU members on Saturday, September 10th 1:00-3:00pm Boston Common Bandstand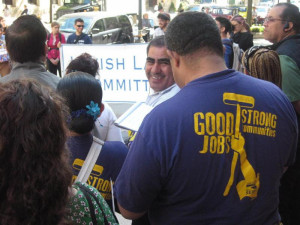 SEIU Local 32BJ unites 13,000 janitors across Massachusetts and Rhode Island. On September 30, their current contract will expire. SEIU Local 32BJ janitors are fighting for adequate staffing, just wages, and benefits such as medical insurance. They need public support to win.
Four years ago, community organizations like Jobs with Justice, many elected officials and the entire labor movement rallied to help SEIU janitors win a good contract. Our commitment made a difference four years ago, and we can make a difference again.
These workers maintain office buildings in Boston including the John Hancock, Prudential Tower, Vertex and Biogen buildings. They provide services to the pharmaceutical, finance, tech, transportation and higher education industries -- all key pillars of the Massachusetts economy. The mostly immigrant janitorial workforce has contributed greatly to our strong local economy. With a commercial real estate industry enjoying low vacancies and sky-high rents, cleaners at the bargaining table are calling for a new contract that expands opportunities for full-time employment and ensures raises that keep up with the cost of living in one of the most expensive metropolitan areas in the country.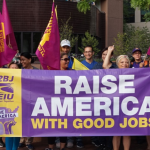 It's time for our SEIU community to come together again to preserve and advance our hard-fought victories. Join our SEIU sisters and brothers and Local 32BJ members on Saturday, September 10th at 1:00 PM for a major mobilization to Raise Up America with Good Jobs!
Find our event on Facebook here.  All Local 888 members should let your union know if you will be attending or have any questions by contacting us at: rwilson@seiu888.org.