Delegates at the Local 888 Membership Convention unanimously approved three resolutions: 1) Urging "No on Question 2" – a ballot question that would lift the cap on charter schools. Click here to read the Local 888 resolution on the Cap on Charters.
[caption id="attachment_7084" align="alignright" width="300"]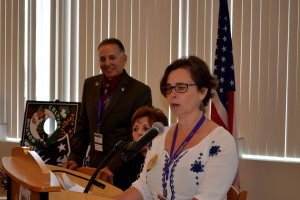 UMass Lowell member Darcie Boyer, who is the parent of a child in public school, spoke passionately at the Local 888 convention in favor of adopting the resolution urging members to vote no on Question 2.[/caption]
[caption id="attachment_7085" align="alignleft" width="300"]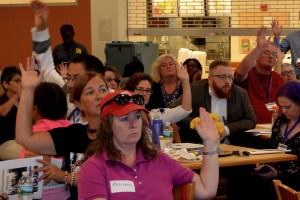 Members at the convention voted in favor three resolutions and heard reports on Local 888's finances, field services, communications, organizing and politics[/caption]
2) Support for raising new revenue for education and infrastructure by allowing a tax on incomes over $1,000,000 at a higher rate. This new "Millionaires tax" would require changing our state constitution in a statewide ballot in the fall of 2018 for the constitutional amendment.  Click here to read the Local 888 resolution on supporting increased investment in Massachusetts
3) A resolution calling on mayors, town managers and school superintendents of every city and town where Local 888 has members to "Fix Massachusetts Schools Now." The resolution urges increased funding for modernization, renovation, and repair of elementary and secondary school buildings in public school districts across the Commonwealth of Massachusetts.  Click here to read the Local 888 resolution. to support fixing Massachusetts schools.
[caption id="attachment_7086" align="aligncenter" width="300"]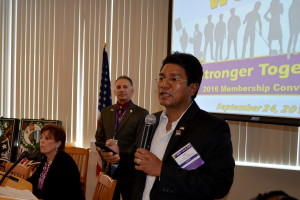 Jorge Vargas spoke in favor of a resolution to fix our schools[/caption]