Delegates at the Local 888 Membership Convention on September 24 reviewed the union's finances and set goals for the future.  Members unanimously approved three resolutions: 1) Urging "No on Question 2" – to lift the cap on charter schools. 2) In support of a new "Millionaires tax" to raise money for education and infrastructure, and 3) To "Fix Massachusetts Schools."
[caption id="attachment_7067" align="alignright" width="300"]
President Mark DelloRusso introduced State Treasurer Deb Goldberg at the convention.[/caption]
"By all accounts we had a great meeting!" said Local 888 President Mark DelloRusso. "Members had an opportunity to meet their officers and staff and hear from State Treasurer Deb Goldberg.
The other convention guest speaker was award-winning author and commentator, David Cay Johnston.
[caption id="attachment_7068" align="alignleft" width="300"]
Randolph school cafeteria members attended the Local 888 convention on Sept. 24.[/caption]
"Our financial report showed considerable progress on managing Local 888's resources and very positive projections for 2017 and 2018," said Secretary-Treasurer Brenda Rodrigues.
For copies of the finance report email brodrigues@seiu888.org.
To see more pictures from the convention, visit https://flic.kr/s/aHskEoh254.
For copies of the convention program with department reports and the resolutions adopted by the delegates, email rwilson@seiu888.org or call 617 241-3300.
[caption id="attachment_7069" align="alignright" width="300"]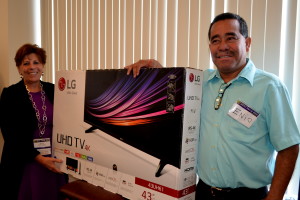 Convention prize winner! Congratulations to Enio Lopez who works at the Chelsea Soldiers Home for winning the flat screen TV door prize at the Local 888 convention.[/caption]