Stretch your paycheck with great discounts. Visit seiumb.com/discounts for special savings on everything from big purchases to the things you use every day including: automobiles, travel, mobile phone service and more.

Plus, check out the Click & Save website for deals from hundreds of local and national merchants.
Solutions to help you manage your finances. Visit seiumb.com/finance for a range of services that give you more control over your financial wellness. Visa cards that give you more financial flexibility.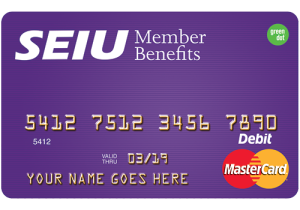 Control and protect your money with the SEIU Green Dot Prepaid Card. • A prepaid card, not a credit card — so no issues with debt • No purchase, transaction or overdraft fees — ever • Money is safe if the card is lost or stolen Plus, get paid up to two days earlier with direct deposit.
Simplify your life with one monthly payment. With a low-fixed rate, the SEIU Personal Loan can help you pay off your credit card balances and other loans.
Give your loved ones the gift of financial security. Did you know that the buying power of large groups like SEIUSM can help make protecting your loved ones more affordable?
Check out the SEIU Group Term Life Insurance at seiumb.com/insurance. It offers exclusive, low, group discounted rates to members, spouses and dependent children.
Learn more at seiumb.com or call 1-844-836-7348