Local 888 member Jonathan Dudley works as a head start teacher at the Montachusett Opportunity Council.  Jonathan is looking for help to raise enough money to provide Thanksgiving turkeys for 65 locked-out warehouse workers and truck drivers who work at the Aubuchon Hardware distribution center in Westminster, MA.
"The workers -- members of Teamsters Local 170 --  are standing up for good, local jobs and refusing to go along with new contract language that would outsource their jobs," said Dudley.  "Of course they're not taking it lying down, there is a robust picket up in front of the warehouse."
[caption id="attachment_7190" align="alignright" width="300"]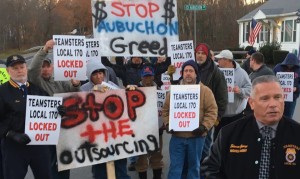 Locked out Teamsters at Aubuchon Hardware[/caption]
"With the holidays right around the corner and winter weather on its way, these workers need our solidarity!" added Dudley.
Use the link below to make a contribution towards a Thanksgiving turkey for each of the locked out workers.
Below is the link to the fundraiser! www.generosity.com/fundraising/thanksgiving-for-locked-out-workers
Members who use Facebook can "like" the "We Support Locked Out Aubuchon Teamsters" Facebook page here: www.facebook.com/AubuchonTeamsters