On Nov. 29 thousands of workers from across the United States took to the streets in a movement for fairness and justice.
[caption id="attachment_7247" align="alignleft" width="300"]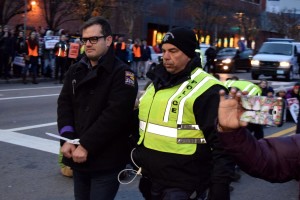 SEIU Local 888 Political Director Dan Hoffer was arrested at the McDonald's in Cambridge along with 33 other fast food and labor leaders.[/caption]
Please consider joining this historic campaign for a $15 statewide minimum wage by taking a pledge to stand with underpaid workers fighting for basic rights. In Massachusetts, Local 888 members and staff took the streets with fast food workers in front of McDonalds to demand that corporations stop paying poverty wages. Thirty-four workers; community, faith, and labor leaders; and elected officials including State Senator Jamie Eldridge committed civil disobedience and were arrested. Hundreds rallied outside of Logan Airport to demand $15 an hour and union rights for airport workers. In the afternoon, we gathered at the State House to announce that Raise Up Massachusetts will be launching a legislative campaign for a $15 statewide minimum wage.
SEIU Local 888 is part of an ambitious campaign to raise the wages for the thousands of hard-working underpaid workers across the Commonwealth, who make up a third of the state's workforce. If you agree, pledge your support and join the campaign today.
Check out Local 888's Facebook page to see photos from the day of action! Read more about the Day of Action here.