Brockton Cafeteria workers won a new three-year agreement which included a $1 an hour increase in the first year and 2 percent raises in the second and third years.  The $1 across the board increase means members will get between 5 and 10 percent increases in the first year!
[caption id="attachment_7316" align="alignleft" width="300"]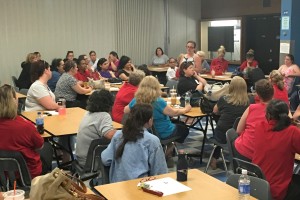 Brockton Cafeteria workers held a large membership meeting last year before contract negotiations to affirm their support for winning a new contract and to hear from State Rep. Michelle DuBois (standing in photo above) who strongly supported the workers.[/caption]
Other highlights: Members with over five years of service will receive a $300 longevity increase.  Four assistant managers were upgraded to managers, and the lead satellite position at the Huntington School was upgraded to Assistant Manager.
If a state of emergency results in a school closing, employees will be paid for up to two days per school year.  There were many other improvements, including higher pay and more security for caterers and an increase in the sick leave payout.
The agreement was ratified with 85 percent approval.
Brockton High School Production manager Linda Machnig is the chapter chair and has worked at the Brockton schools for 26 years. She said, "We got ourselves together and really worked hard for almost a year on this agreement.  We got great help from the Local 888 and support from the community.  I'd really like to thank our Reps from Local 888, Maureen Medeiros and Larry Higgins."