The Trump administration and most republicans are moving ahead with plans to restructure Medicaid, repeal the ACA, and privatize the Veterans Health Administration.
[caption id="attachment_7373" align="alignright" width="300"]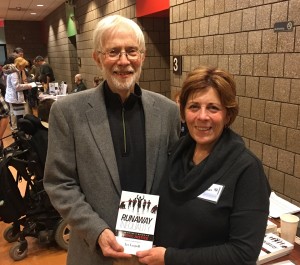 Brenda Rodrigues (shown above with author Les Leopold) attended a national Single Payer strategy conference in NYC on Jan. 14. SEIU members voted to support Medicare for All at the 2016 International Convention in Detroit.[/caption]
If they succeed, these efforts could jeopardize health care coverage for millions of Americans -- especially seniors, people of color, single parents, veterans, the disabled, lower income workers and the unemployed.
Moreover, the Republican plan will put even more of the funding burden for social safety net programs onto already overstretched state budgets.
Rolling back the modest gains the ACA achieved will financially burden state and local governments to plug the holes in health care's sinking ship.
Speakers at the national Single Payer strategy conference unanimously believed that the best way to fight proposed cuts to the ACA and defend Medicare was by aggressively campaigning for Medicare for All.