By Mark DelloRusso, President, SEIU Local 888
[caption id="attachment_7388" align="alignright" width="199"]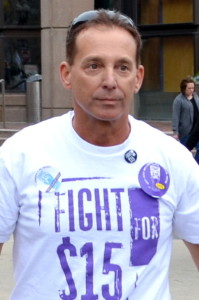 Mark DelloRusso[/caption]
Our country has been a beacon of hope for hundreds of years, yet our new president has chosen to scapegoat immigrants and refugees claiming that this will protect our jobs and national security.
Let's be clear: immigrant families strengthen our communities and our economy by creating millions of jobs every year. Today immigrants are running almost a fifth of our small businesses, and doing much of the work our families depend on, including caring for our children, the sick and the elderly, and securing and cleaning our offices and airports.  Many immigrants are members of Local 888 or our sister SEIU locals here in Massachusetts.
In just his first few weeks in office, President Trump has launched a frontal assault on working families and our communities. But there is good news: Huge collective actions like the Boston Women's March, the Day of Action for the Fight for $15, our campaign to protect affordable health care, and the outpouring of support at airports for our nation's immigrants and refugees have given many Local 888 members hope and inspiration. These actions -- and the millions of people coming together to demand better from our president -- they represent the true spirit of America.
SEIU is encouraging all of us to Stand Up, to Show Up, and to Rise Up for an economy and a democracy that work for all us. Here are three things you can do:
Sign the petitionto say you will stand up against the attacks.
Join an actionto be part of the growing movement for our families.
Share on social mediato add your voice to those speaking out.
By uniting and organizing, we have overcome setbacks in the past. Together we can do it again. Now is the time to stand up, show up, and rise up against these attacks on our families and our shared values.