SEIU Local 888's Latino Caucus hosted a political event honoring Alex Padilla, California's Secretary of State on Jan. 27. The event was sponsored by the League of United Latin American Citizens and featured many prominent Boston politicians.
[caption id="attachment_7377" align="alignright" width="300"]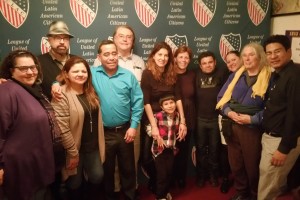 Local 888 leaders gathered at the League of United Latin American Citizens event on Jan. 27[/caption]
"Local 888's Latino Caucus fights hard to support issues that face Latinos in our union as well as the communities we live and work in," said Secretary-Treasurer Brenda Rodrigues.
Rodrigues drew on her experience in the Jan. 21 Women's March in Washington to make a point about the urgent need for unity: "Millions of people came together across Massachusetts, the country, and the globe to stand up for justice, equality, and fairness for all. We will not forget what we marched for and those who marched with us.
"If there's anything we learned last weekend, it's that our voices are powerful. We must not just push back [against the Trump agenda], but push forward to help promote secure employment, accessible health care, affordable housing, and safe communities for everyone. Because no matter what boat we came to America on, we are all in the same boat now!"