Suffolk University staff members marched to the university president's office on Jan. 31 to announce that a majority of their coworkers supported a petition to have an election supervised by the National Labor Board.
[caption id="attachment_7384" align="alignright" width="300"]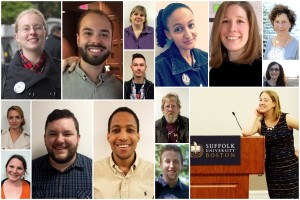 Suffolk union supporters are seeking to form a new union with Local 888. Many of the above employees have worked for months to build majority support for their union. Their election is March 2.[/caption]
"We asked them to not expend precious university resources trying to in any way disrupt our legal right to have a union election," said Meri Power-Ayer of Suffolk University's Political Research Center.
Organizing committee members were joined by both undergraduate and graduate students as they delivered a letter signed by 24 union leaders from across Suffolk.
The Labor Board has set the election for March 2 to be held on campus.
Library Circulation Assistant Jim Alexander of the Mildred Sawyer Library said that from his perspective, it's about the stakeholder's voice.
"This university is a community and communities are built on engagement and people actually participating. I think Suffolk really needs a boost on that," said Alexander. "That's what we're trying to do."
"We've been working really hard to make sure our support is spread across campus," said Power-Ayer. "We have a real coalition of support and we're hoping to make this a great place to work like we know it can be."
"I think that collective bargaining and giving Suffolk staff a voice will make Suffolk a better place," said Esther Anastasia, of the physics department.
Local 888 members who are alumni or have friends or relatives who work for Suffolk are urged to contact organizer Ian Adelman at (508) 314-4417 or email iadelman@seiu888.org.