The SEIU Local 888-backed bill to win union rights for staff at the Committee for Public Counsel Services (CPCS) is off to a strong start in this legislative session. Bipartisan support now includes 139 members of the legislature (113 out of 160 members in the House, and 26 out of 40 in the Senate).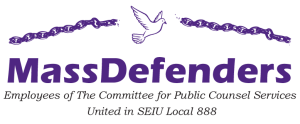 With so many co-sponsors, the organizing rights bill is in a strong position to pass. However, winning will require a strong showing for the MassDefender's lobby day. All Local 888 members, public defenders, investigators, and administrative staff are invited to the State House to have face-to-face conversations with their elected representatives in support of the bill.
The lobby day is Wednesday, April 19 from 9:30 AM to 4:00 PM at the Massachusetts State House. Whether you're available in the morning or the afternoon, we will be meeting with Representatives and Senators all day.
Our lobby day is crucial to keeping the pressure on our legislators and winning more support. Click here to RSVP.
Save the Date for the Next Lobby Day, April 19th at the State House.