Local 888 Secretary-Treasurer Brenda Rodrigues attended a special site visit to SEIU's Member Benefits headquarters to meet its staff, review its first year's progress and plans for the future.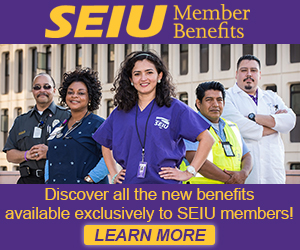 Visit www.seiumb.com to see how the buying power of millions of SEIU members helps the union negotiate some terrific discounts!"It's really amazing to see what Member Benefits have put together for our members," said Rodrigues. "I hope more members will take advantage of all of the new benefits that are on the website—everything from insurance and credit cards to discounts on travel and everyday items."
Below are some of the great benefits available—at no cost or obligation—just for being an SEIU member!
Manage finances better: Get competitive rates on everything from credit cards to personal loans
Protect your family: Benefit from group rates on a growing portfolio of insurance products
Cut your cost of living: Get special discounts at thousands of stores and favorite merchants.
Travel for less: Enjoy specially negotiated rates and travel programs
Members who would like Brenda to visit their chapter for an informational session should call 617 241-3300 or email brodrigues@seiu888.org