[caption id="attachment_7582" align="aligncenter" width="300"]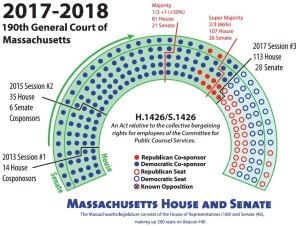 113 members of the House of Representatives and 28 Senators support for "An act relative to the collective bargaining rights for employees of the Committee of Public Counsel Services[/caption]
For the fifth year in a row, staff at the Committee on Public Counsel Services (CPCS) are working to win legislation to establish collective bargaining rights.
The chart below shows the substantial progress the CPCS staff have made convincing legislators to become co-sponsors of their legislation.
CPCS staff will be having a statewide meeting on June 17 in Worcester to plan their political strategy to achieve a favorable vote in the legislature.